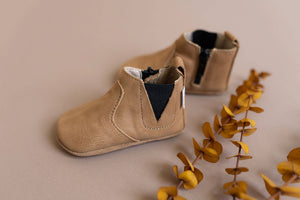 My Little Love Bug Chelsea moccasin boots were made for walkin'!
Perfect for nearly any fashionable outfit - Your Love Bug will be on trend as they take their first steps in my adorable handmade ankle mocc boots. Comfortable, light and fashionable, you will be sure to fall in love with these adorable shoes.
As always, the best part about Little Love Bug Company footwear is that each pair of shoes offer non-slip soles. Babies and toddlers alike need extra grip wherever they go and my children's Chelsea moccasin boot not only help them from taking a tumble, they're easy for parents to slip on and off.